The very best saddle and the finest fitting will not make the rider sit in balance without disturbing the horse and give the invisible aids you so much want to master. Kerry came across this problem as saddle fitter very often and designed especially for you Joker, the horse simulator.
Whether you are at the base of horse riding, or ride at the highest level where it revolves around the smallest details… You are and will always be a student, because you never stop learning!
It also does not matter whether you as a rider are young or old, fat or thin, practice the classical art of riding, ride dressage competitions, fly over the highest and most exciting obstacles or enjoy a recreational canter through the forest …
Your posture and sitting is and remains the basis for all success. When you are not completely in balance, you will encounter difficulties in your own sitting, such as: raising heels, not being able to keep hands still, not being able to sit properly and so on. But you also encounter difficulties with the horse such as: difference in lateral bending, extension, a difficult approach and so on.
You can of course keep doing what you have always done, such as training weekly on the horse's back under the watchful eye of your instructor. Maybe you even train your own body, your core stability, next to the horse. But there is now even more you can do!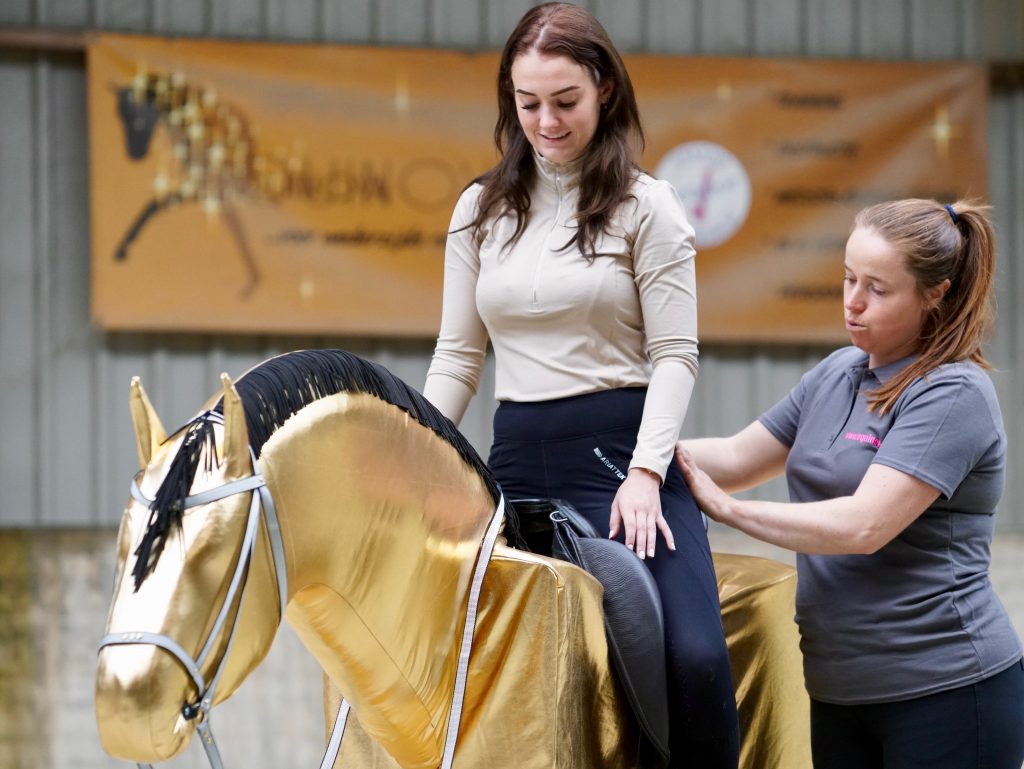 There is now a way to train yourself and really deal with the demons you have been fighting against for so long and that without burdening your horse: Joker!
Joker really makes the difference! It's great value is that it brings you back to the basics of consciousness and feeling, because that is what good horse riding is all about.
It consists of a unique construction of springs, so that this simulator allows you as a rider to feel the walk, the trot, and the canter. At least … as long as you make the right moves …
Joker does not compensate for an uneven weight distribution or an uncentered position of the rider like your own horse does. Because of this you have to take responsibility for your own balance.
In addition, you make the movements yourself and that gives immediate feedback: If the movements do not feel like a real horse, you do not move in a way that does not disturb the horse!
Joker can therefore be really confronting!
Your horse cannot resolve your imbalance as a rider without the risk of possible injuries and an inevitable asymmetrical muscle development. But because your horse is always looking for balance, it tries to compensate for the lack of your balance and coordination. As a result, your horse shows undesirable behavior, or it does not perform as well as expected or it quickly runs the risk of that – always unwanted – injury.
You may not even be aware that your posture and sitting can be the cause of all these problems. It is therefore not only about your own stumbling blocks that you seem to be unable to master, but also about the well-being of your own horse!
Joker helps you to become the best rider you can possibly be!
With Joker you can learn the correct movements by working on your position, your balance, your muscle tone, an independent seat and aids, the biomechanics, your coordination, your timing, your breathing, your leg position, the rein contact, the precise aids, or whatever it takes to achieve more harmony between you and your horse.
With Joker's instant feedback you will get incredible Eye-openers, which will make you and your horse very happy and go a lot further towards achieving your dreams!
Many riders at all levels, even up to and including the Grand Prix, have already experienced the incredible benefits of Joker.
Are you ready to?
By clicking this link you'll enter Joker's own website where you'll read everything about him! Also there's a list with instructors close to you. Every instructor has their own specialities and roots in different disciplines, so see what suits you best and make an appointment!